Foreman 12" x 2" Inch Electric Brake
Due to production being discontinued in 1980, only the following replacement parts are available.
Please do not confuse this brake or magnet with the mobile home brake. The magnet size is different and the Forman magnet has white wire leads.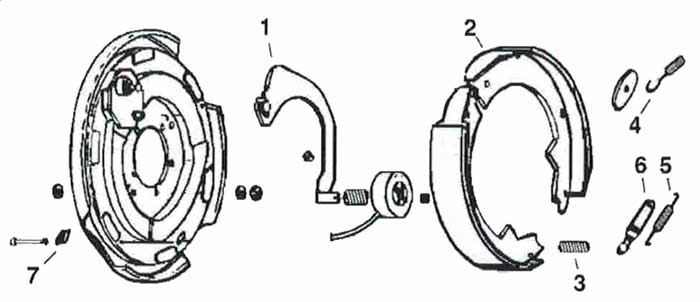 PART NO.
REF. NO.
DESCRIPTION
ITEM
193800
Magnet Kit, Round (Before 1988) Reference Only
N/S
BP02-230
Actuating Arm, Left Hand
1
BP02-240
Actuating Arm, Right Hand
1
BP04-150
205950
Shoe/Lining (One Wheel) Reference Only
2
BP06-090
Shoe Hold Down Spring
3
BP07-105
Shoe Return Spring
4
BP08-070
Adjuster Spring Electric
5
BP10-220
Adjuster Dust Plug, Pkg of 4
7