Kodiak 12K Special Single Wheel Trailer Disc Brakes
JM511946 Inner/JM205149 Outer Bearing
Fits Rockwell American 12,000 lb. Single wheel axles
Oil Bath Lubrication
Disc Kit includes 2ea. Rotor, 1 pair Calipers with pads & Brackets and spacers for one axle. (Inner/Outer Bearings, Grease Seals, Caps & Wheel Nuts sold separately).
Brake flange to inner bearing shoulder = 2.57" and is non-standard. This offers approximately 4.4" additional frame width.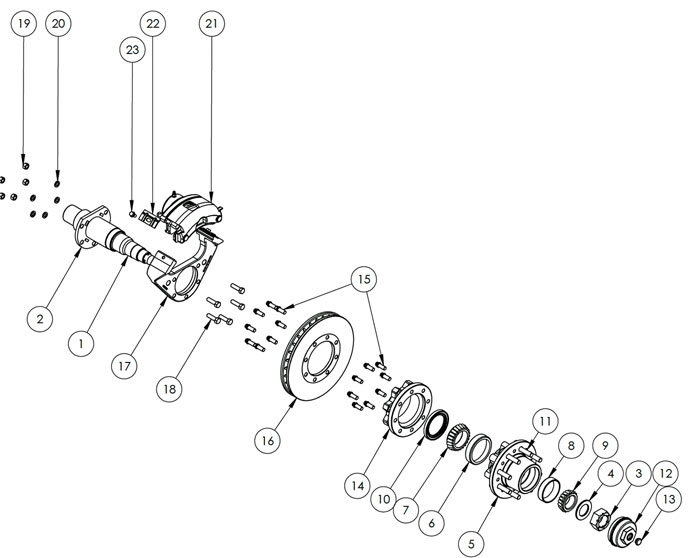 PART NO.
DESCRIPTION
ITEM
2/RCMHS-13-12H
Kodiak 12k Special Single wheel one axle Disc Brake Set automotive finish rotor, E-coat caliper
2/RCMHS-13-12H-DAC
Kodiak 12k Special Single wheel one axle Disc Brake Set dacromet coat rotor and caliper
2/RCMHS-13-12H-DAC-SS
Kodiak 12k Special Single wheel one axle Disc Brake Set dacromet coat rotor and stainless steel caliper
2/RCMHS-13-12H-HD

Kodiak 12k Special Single wheel one axle Disc Brake Set automotive finish rotor, E-coat caliper

2/RCMHS-13-12A-HD

Kodiak 12k Special Single wheel one axle Disc Brake Set (Rockwell/Al-ko) automotive finish rotor, E-coat caliper

2/RCMS-13-12D-HD

Kodiak 12k Special Single wheel one axle Disc Brake Set (Dexter/Lippert) automotive finish rotor, E-coat caliper