Kodiak 7.2K 13" Slipover Rotor Trailer Disc Brakes
25580 Inner/02475 Outer Bearings
Fits Dexter and most other 7,200 lb. axles
Standard Grease & Oil Applications
Disc Kit includes 2ea. Rotor, 1 pair Calipers with pads & Brackets for one axle. (Inner/Outer Bearings, Grease Seals, Caps & Wheel Nuts sold separately).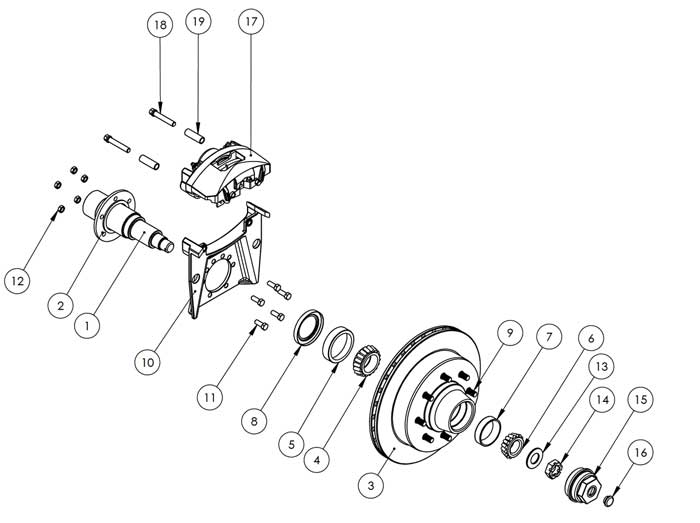 KODIAK #
DEXTER #
DESCRIPTION
2/RCM-133-7.2-9
2/R-133-7.2-9-REE
Kodiak One Axle Slipover Disc Brake Set 13" automotive finish rotor/E-coat caliper (fits 865 idler hub with 9/16" wheel bolts)
2/RCM-133-7.2-9-E
2/R-133-7.2-9-EEE
Kodiak One Axle Slipover Disc Brake Set E-coated rotor/caliper (fits 865 idler hub with 9/16" wheel bolts)
2/RCM-133-7.2-10
2/R-133-7.2-5-REE
Kodiak One Axle Slipover Disc Brake Set 13" automotive finish rotor/E-coat caliper (fits 865 idler hub with 5/8" wheel bolts)
2/RCM-133-7.2-10-E
2/R-133-7.2-5-EEE
Kodiak One Axle Slipover Disc Brake Set E-coated rotor/caliper (fits 865 idler hub with 5/8" wheel bolts)
CALIPER REPLACEMENT PARTS
KODIAK #
DEXTER #
DESCRIPTION
DBC-250-CRM-PAD
Friction Pads (Ceramic standard on Dacromet coated calipers)
DBC-250-CRM-PAD-SS
Friction Pads (Ceramic with stainless steel backing plate - standard on stainless steel calipers)
DBC-250-PSTN-SS
2 1/2" Stainless Steel Piston; standard on dacromet coated and stainless steel calipers
DBC-250-PSTN
2 1/2" Nickel Chrome Piston; standard on E-coated calipers
DBC-250-SEAL
EPDM Piston Seal
DBC-250-BOOT-SI
Silicone Dust Boot with stainless steel compression ring
DBC-FIF-MP-90
Adapter Port 90 degree 1/8" NPT to 3/16" FIF
DBC-NPT-ADP/BBS
Brass Bleed Port (1/4"-28 Bleed Screw w/1/8" NPT Adapter
DBC-NPT-PLUG
1/8" Brass Pipe Thread Plug
DBC-MHBSB
EPDM Bushing For Guide Bolt Sleeve
N/A
DBC-MB
O-ring for Guide Bolt Sleeve (Use For OLDER Design) Reference Only
DBC-250-K
Disc Brake Caliper Rebuild Kit- includes 1 boot, 2 bushings, 2 guide bolts, 1 seal and 1 stainless steel piston